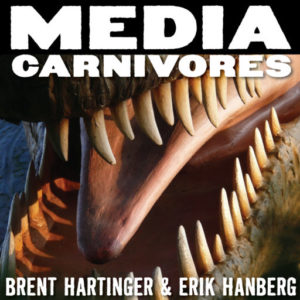 BRENT HARTINGER is the award-winning, best-selling author of many novels, eight of them traditionally published (by major publishers like HarperCollins), and four of them self-published. One of his novels, Geography Club, has been adapted into a feature film co-starring Scott Bakula, and he currently has four other movie projects in very active development.
He's also the co-founder of the website AfterElton.com, which was sold to Viacom/MTV in 2006 in a multi-million dollar deal. Visit or contact Brent at brenthartinger.com
ERIK HANBERG is the author of four novels (three mysteries and a science fiction adventure) and two nonprofit guidebooks.  In addition to his writing, he runs a boutique marketing company with his wife  and is an elected official in Tacoma, Washington. He blogs regularly at erikhanberg.com
CONTACT
Email: info@mediacarnivores.com

Twitter:
@mediacarnivores
@brenthartinger
@erikhanberg
Support
Media Carnivores is fan-supported. You can support the show monthly through Patreon, or a one-time donation through Paypal. Thanks for your support!