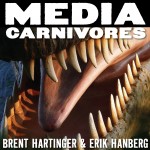 Do we expect (and maybe even encourage) artists to be depressed or otherwise eccentric? Does standing on the outside of society and holding up a mirror mean you will always be disappointed, frustrated, and (metaphorically) alone? Brent and Erik dive deep into the romanticization of artists and the public image of artists.
Your Hosts
Links Mentioned This Episode
Media Consumed This Episode
Black Swan (film, 2010)
Fatal Attraction (film, 1987)
King Lear (play)
The Essays of E.B. White (book)
Subscribe!
Subscribe: Apple Podcasts | Android | RSS