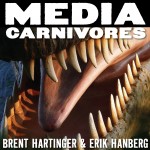 It's never been easier to create and distribute your own movie. But should you? Are you crazy to produce your own movie? Brent and Erik bring on movie producers Julia Verdin and Matt Dean—our first guests!—to help answer this question.
Your Hosts
Links Mentioned This Episode
Success in Film: A Guide to Funding, Filming, and Finishing Independent Film
Media Consumed This Episode
Lost Girls (film)
Merchant of Venice (film, 2004)
Subscribe!
Subscribe: Apple Podcasts | Android | RSS