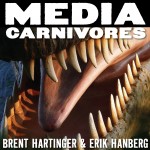 The 2014 Hollywood box office was down over 2013 and as low as its been in three years. And so far this year, movies targeting women have outperformed movies targeting men. Can women revive a slumping box office?
Your Hosts
Links Mentioned This Episode
Media Carnivores Patreon Campaign
At the box office, it's no longer a man's world
TV Pilots 2015: The year of ethnic casting
Media Consumed This Episode
Frozen
The Matrix
The Muppets
Twilight
Sex and the City
Tangled
Brave
Inside Out
Subscribe!
Subscribe: Apple Podcasts | Android | RSS