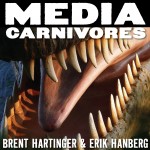 Computer generated images are in almost every major studio movie, especially the upcoming summer blockbuster season. Has it gone too far and stifled creativity? Or has CGI actually unleashed it?
Your Hosts
Links Mentioned This Episode
Media Carnivores Patreon Campaign
Game of Thrones Visual Effects Breakdown (YouTube)
Ian McKellen and the Balrog (YouTube)
Media Consumed This Episode
The Lord of the Rings trilogy (films)
The Hobbit trilogy (films)
Angel Heart (film, 1987)
Dragonslayer (film, 1981)
Titanic (film, 1997)
Chef (film, 2014)
Beauty and the Beast (film, 1991)
Willy Wonka and the Chocolate Factory (film, 1971)
Charlie and the Chocolate Factory (film, 2005)
Marvel's Agent Carter (TV)
Game of Thrones (TV)
The Polar Express (film, 2004)
Beowulf (film, 2007)
The Adventures of Tintin (film, 2011)
Star Wars (film series)
Cloverfield (film, 2008)
Chronicle (film, 2012)
Alien (film, 1979)
Jaws (film, 1975)
Deep Blue Sea (film, 1999)
Subscribe!
Subscribe: Apple Podcasts | Android | RSS