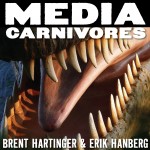 This year is the year of blockbuster (and sequels, reboots, and remakes). But don't we say that every year? How have popcorn movies changed? And have market pressures made popcorn movies go stale?
Your Hosts
Links Mentioned This Episode
Media Carnivores Patreon Campaign
Age of Robots: How Marvel is Killing the the Popcorn Movie
How Marvel is using television to dominate pop culture
Media Consumed This Episode
Avengers
Guardians of the Galaxy
Avengers: Age of Ultron 2
Captain America: Winter Soldier
Watchmen
Big Hero 6
The Iron Giant
The Black Cauldron
Interstellar
Subscribe!
Subscribe: Apple Podcasts | Android | RSS