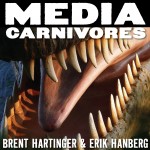 Media Carnivores co-host Brent Hartinger recently sold his book Three Truths and a Lie to a traditional publisher, Simon Pulse. As a writer traditional and self-published books, Brent makes an interesting case study for this new potential of a career as a "hybrid" author.
Your Hosts
Links Mentioned This Episode
Media Carnivores Patreon Campaign
About That Deal – John Scalzi
Media Consumed This Episode
Three Truths and a Lie (book, 2016)
Subscribe!
Subscribe: Apple Podcasts | Android | RSS