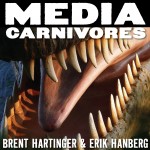 Writers don't often talk about failure. But, almost by definition, writers will fail either artistically or commercially at some point. As Brent says, how we deal with failure determines whether we will be a successful artist.
Your Hosts
Media Consumed This Episode
The Last Chance Texaco (book, 2004)
The Order of the Poison Oak (book, 2005)
The Thing I Didn't Know I Didn't Know (book, 2014)
The Lead Cloak (book, 2013)
The Marinara Murders (book, 2011)
Subscribe!
Subscribe: Apple Podcasts | Android | RSS