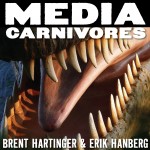 Writers often have more ideas for books and screenplays than they have time to write. So how does a writer choose one project over another? Brent and Erik delve into their own careers to share their decision-making process.
Your Hosts
Links Mentioned This Episode
Media Carnivores Patreon Campaign
Ian Rankin: "It took 14 years for my writing to pay"
Media Consumed This Episode
Twilight (book series)
Geography Club (book)
Project Sweet Life (book)
The Thing I Didn't Know I Didn't Know (book)
Subscribe!
Subscribe: Apple Podcasts | Android | RSS