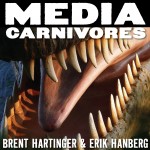 Brent and Erik go into detail about the marketing steps they take to launch a book. This episode also contains an offer to be a beta reader from Brent for his next book!
Your Hosts
Links Mentioned This Episode
BrentHartinger.com
Patchwork Press Netgalley Coop
Media Consumed This Episode
The Thing I Didn't Know I Didn't Know (book)
The Lead Cloak (book)
Subscribe!
Subscribe: Apple Podcasts | Android | RSS