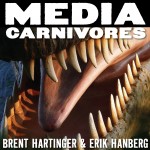 Technology has changed both the kinds of stories we tell and how we tell them. Brent and Erik talk about how technology has reshaped the media landscape. This episode also includes our official launch of a Patreon campaign to support the podcast!
Your Hosts
Links Mentioned This Episode
Media Carnivores Patreon Campaign
Media Consumed This Episode
The Sopranos (TV)
Lost (TV)
Black Mirror (TV)
Game of Thrones (TV)
Murder One (TV)
The X-Files (TV)
Hill Street Blues (TV)
Chicago (film, 2003)
The Thing I Didn't Know I Didn't Know (book)
Subscribe!
Subscribe: Apple Podcasts | Android | RSS