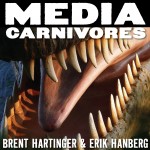 Is Amazon evil? We tackled this question during the early days of the Hachette-Amazon dispute and enough has changed over recent months that we thought this question was worth revisiting again.
Your Hosts
Links Mentioned This Episode
Media Carnivores – "Is Amazon Evil?" – Episode 005

Media Consumed This Episode
"The Queen of Neptune" – Veronica Mars (book)
The Thing I Didn't Know I Didn't Know (book)
Walt Disney: The Triumph of the American Imagination (book)
Sherlock Season 3 (TV)
The Babadook (film, 2014)
The Comeback Season 2 (TV)
Edge of Tomorrow (film, 2014)
Subscribe!
Subscribe: Apple Podcasts | Android | RSS