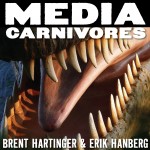 Never has a television show pushed the envelope of both content and production as Game of Thrones. Are shows with the epic scope of Game of Thrones the future? Or is this a high-water mark for TV?
Your Hosts
Links Mentioned This Episode
Media Carnivores Patreon Campaign
Game of Thrones Visual Effects Breakdown (YouTube)
Media Consumed This Episode
Game of Thrones (TV)
Lost (TV)
Bad Twin (book, 2006)
The Jinx (TV)
Red Mars (book, 1993)
Subscribe!
Subscribe: Apple Podcasts | Android | RSS