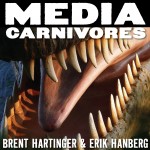 How should an artist's personal life, personal opinions—and possible crimes—affect our view of the artist's work? Is it ethical to watch the work of an artist who has been alleged to have done terrible things?
Your Hosts
Media Consumed This Episode
The Cosby Show (TV)
Ender's Game (film, 2013)
The Passion of the Christ (film, 2004)
Apocalypto (film, 2006)
Subscribe!
Subscribe: Apple Podcasts | Android | RSS