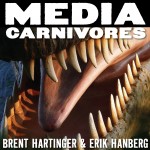 With a slate of new programming and several Emmys, Netflix is taking TV by storm. Which leads to the question… Is Netflix the new black? Are they the model that everyone should be looking to copy? Brent and Erik check out Netflix's distribution model and their recent shows.
Your Hosts
Links Mentioned This Episode
Media Carnivores Patreon Campaign
The goal is to become HBO faster than HBO can become us.
Fox Programming Chart (image)
Media Consumed This Episode
Daredevil (TV show)
Sense8 (TV show)
Game of Thrones (TV show)
Hemlock Grove (TV show)
Marco Polo (TV show)
Bloodline (TV show)
House of Cards (TV show)
The Unbreakable Kimmy Schmidt (TV show)
Orange Is the New Black (TV show)
Broad City (TV show)
Grace and Frankie (TV show)
The Cotton Club (film, 1984)
BoJack Horseman (TV show)
Subscribe!
Subscribe: Apple Podcasts | Android | RSS