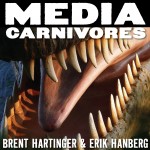 Can an indie writer make it anymore? Is there gold in the hills?  What caused the surge in self-publishing and how has it changed? Brent and Erik look at trends in publishing as well as their own careers to answer these questions.
Your Hosts
Links Mentioned This Episode
Media Carnivores Patreon Campaign
Subscribe!
Subscribe: Apple Podcasts | Android | RSS