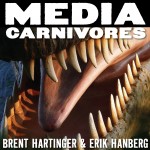 Sometimes when books, TV shows, and movies kill key characters, fans get outraged. And sometimes a great death scene will make a character even more memorable. What's the difference? Brent and Erik investigate.
Your Hosts
Links Mentioned This Episode
Media Carnivores Patreon Campaign

Media Consumed This Episode
Game of Thrones (TV show)
M*A*S*H (TV show)
The Sopranos (TV show)
Dowton Abbey (TV show)
Psycho (film, 1960)
Deep Blue Sea (film, 1999)
Scream (film, 1996)
Star Trek Generations (film, 1994)
Xena: Warrior Princess (TV show)
Star Trek: Into Darkness (film, 2013)
The Hunger Games Trilogy (books and films)
X-Men: Days of Future Past (film, 2014)
Thelma & Louise (film, 1991)
Spring Awakening (musical, 2006)
Buffy the Vampire Slayer (TV series)
Harry Potter series (books and films)
Up (film, 2009)
Big Hero Six (film, 2014)
The Walking Dead (TV series)
Cyrano de Bergerac (drama, 1897)
City Slickers (film, 1991)
L.A. Confidential (film, 1997)
Subscribe!
Subscribe: Apple Podcasts | Android | RSS