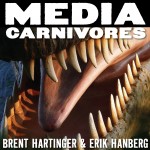 Should writers self-publish? Brent Hartinger and Erik Hanberg continue the discussion from Part I by talking about their decisions to traditionally publish or self-publish their books.
Your Hosts
Media Consumed This Episode
Geography Club (book)
The Elephant of Surprise (book)
The Lead Cloak (book)
The Dark Tower (book series)
Subscribe!
Subscribe: Apple Podcasts | Android | RSS