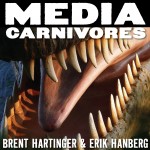 What are your "guilty" pleasures? And who says you should you feel guilty about them? Brent and Erik look into shows and books commonly called guilty pleasures, as well as discuss their own.
Your Hosts
Links Mentioned This Episode
Media Carnivores Patreon Campaign

Media Consumed This Episode
House of Cards (TV)
The Amazing Race (TV)
Downton Abbey (TV)
Revenge (TV)
Teen Wolf (TV)
The Vampire Diaries (TV)
Buffy the Vampire Slayer (TV)
Showgirls (film, 1995)
Burlesque (film, 2010)
The Year of the Comet (film, 1992)
Hudson Hawk (film, 1991)
The Mexican (film, 2001)
Charlie's Angels (TV)
Wild (book and film)
Road to Perdition (film, 2002)
Subscribe!
Subscribe: Apple Podcasts | Android | RSS