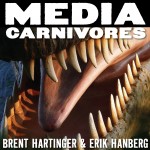 Paranormal romance has been the "it" genre in publishing for years now. How long can it last? And what comes next? We look at some of the biggest recent genres (paranormal romance, zombies, chicklit) and make some guesses about what genres might be the next to go big.
Your Hosts
Media Consumed This Episode
Twilight (book series)
Bridget Jones's Diary (book)
The Hunger Games (book series)
The Maze Runner (book)
Divergent (book)
Gone Girl (book)
The Martian (book)
Harry Potter (book series)
March of the Penguins (film)
The String Diaries (book)
Lonesome Dove (book)
The Dark Tower (book series)
Back to the Future Part III (movie)
Subscribe!
Subscribe: Apple Podcasts | Android | RSS