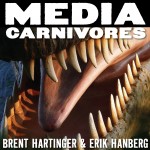 Over time, the portrayal of men has changed substantially in movies and television, including sitcom dads, action heroes, character leads in cable dramas, and more. How are men portrayed and characterized? What direction is the going?
Your Hosts
Links Mentioned This Episode
The Death of Adulthood in American Culture – A.O. Scott
Trolls drive Anita Sarkeesian out of her house to prove misogyny doesn't exist
Media Consumed This Episode
Home Improvement (TV)
Modern Family (TV)
Louie (TV)
Chef (film, 2014)
Breaking Bad (TV)
The Sopranos (TV)
Mad Men (TV)
Spirits (Screenplay)
Arthur Beautyman Mysteries (Book Series)
About Time (film)
Honeymoon (film)
Casino Royale (film)
The Winter Soldier (film)
Desperate Housewives (TV)
Sex in the City (TV)
The Good Wife (TV)
Up in the Air (film)
Edge of Tomorrow (film)
Subscribe!
Subscribe: Apple Podcasts | Android | RSS