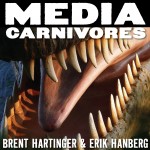 The portrayal of gay and lesbian characters in movies and TV has changed over time—and quite dramatically over the last few years. With the recent Supreme Court ruling on marriage equality, we thought it was time to look into how things have changed and where we are now.
Your Hosts
Links Mentioned This Episode
Media Carnivores Patreon Campaign
Media Consumed This Episode
The Maltese Falcon (film, 1941)
Friends (TV)
Will & Grace (TV)
In and Out (film, 1997)
Queer as Folk (TV)
Looking (TV)
Weekend (film, 2011)
Sex in the City (TV)
Three's Company (TV)
Impastor (TV)
Star Trek: Deep Space Nine (TV)
L.A. Law (TV)
As the World Turns (TV)
Sense8 (TV)
How to Get Away with Murder (TV)
Modern Family (TV)
Glee (TV)
Empire (TV)
Orange Is the New Black (TV)
Frozen (film, 2013)
Geography Club (book, 2003)
Making Love (film, 1982)
Subscribe!
Subscribe: Apple Podcasts | Android | RSS