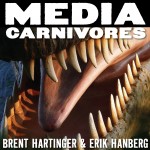 It's the time of year where we gather around the TV and watch our favorite Christmas specials. But why do we do this? And what makes these specials stick with us for decades?
Your Hosts
Media Consumed This Episode
National Lampoon's Christmas Vacation (film, 1989)
A Charlie Brown Christmas (TV, 1965)
Iron Man 3 (film, 2013)
Kiss Kiss Bang Bang (film, 2005)
Lethal Weapon (film, 1987)
It's a Wonderful Life (film,  1946)
Harry Potter (film series)
A Christmas Carol (book)
The Nutcracker (ballet)
How the Grinch Stole Christmas (TV, 1966)
The Con Before Christmas (book)
Bad Santa (film, 2003)
Rare Exports (film, 2010)
Mrs. Santa Claus (film, 1996)
A Midnight Clear (film, 1992)
Joyeux Noel (film, 2006)
Subscribe!
Subscribe: Apple Podcasts | Android | RSS