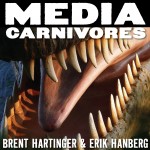 What makes a comedy funny? Is there any joke or situation that is timeless? Has irony killed classic comedy? Brent and Erik look TV and film for answers (and laughs).
Your Hosts
Links Mentioned This Episode
Media Carnivores Patreon Campaign
Media Consumed This Episode
The Cleveland Show (TV)
The Simpsons (TV)
Kick-Ass (film, 2010)
Veep (TV)
Seinfeld (TV)
Cybil (TV)
Fresh Off the Boat (TV)
The Big Happy (TV)
The Hangover (film, 2009)
Unbreakable Kimmy Schmidt (TV)
The Mindy Project (TV)
Parks and Recreation (TV)
30 Rock (TV)
Get Hard (film, 2015)
Subscribe!
Subscribe: Apple Podcasts | Android | RSS