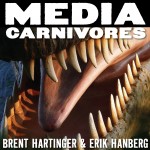 Why are so many sequels so much worse than the original? Why do they retread the same group? Brent and Erik visit (revisit?) sequels and look at the "rules" that make the great ones great.
Your Hosts
Links Mentioned This Episode
Media Carnivores Patreon Campaign
Brent's Rules for Writing a Good Sequel
Media Consumed This Episode
The Iron Harvest (Book II of The Lattice Trilogy, coming fall 2015)
Toy Story (1, 2, 3)
Die Hard (1, 2, 3, 4)
Alien (and Aliens)
Babe (and Babe 2)
Star Wars series
Indiana Jones series
Harry Potter series
Twilight series
The Dresden Files series
Dalziel and Pascoe mystery series
Subscribe!
Subscribe: Apple Podcasts | Android | RSS