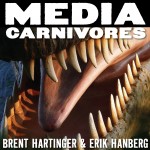 When is it good to be bad? When do you root for the villain, and when you root against? When does evil come from within and when does it come from without? Brent and Erik look at evil and villains in media.
Your Hosts
Links Mentioned This Episode
Media Carnivores Patreon Campaign
Media Consumed This Episode
The Talented Mr. Ripley (book and film)
The Babadook (film, 2014)
Return of the King (book and film)
Return of the Jedi (film, 1983)
The Saints Go Dying (book)
No Country for Old Men (book and film)
Tomorrowland (film, 2015)
Alien (film, 1979)
Aliens (film, 1986)
Prometheus (film, 2012)
The Player (film, 1992)
The Stepford Wives (film, 1975)
The Little Mermaid (film, 1989)
Limitless (film, 2011)
Nightcrawler (film, 2014)
Entrapment (film, 1999)
The Bad Seed (film, 1956)
Star Trek (TV and films)
Subscribe!
Subscribe: Apple Podcasts | Android | RSS