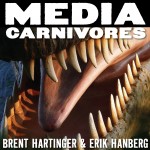 Especially after Tony Soprano, TV feels like it is full of stories about anti-heroes. How has their portrayal changed? And why are we so drawn to them? Brent and Erik explore.
Your Hosts
Links Mentioned This Episode
Media Carnivores Patreon Campaign
Media Consumed This Episode
The Talented Mr. Ripley (book and film)
The Sopranos (TV)
Breaking Bad (TV)
Mad Men (TV)
Star Wars (film)
The Americans (TV)
Weeds (TV)
Nightcrawler (film)
Dexter (TV)
The Walking Dead (TV)
House of Cards (TV)
Girls (TV)
Ocean's Eleven (film)
Nurse Jackie (TV)
The Good Wife (TV)
Top Gun (film)
The Dark Knight (film)
Guardians of the Galaxy (film)
Iron Man (film)
Subscribe!
Subscribe: Apple Podcasts | Android | RSS